About Us
Peak Press Juicery is committed to making and delivering delicious, high-quality, organic cold-pressed juices, cleanses and almond mylks to the Berthoud, Longmont, and Mead, CO area community.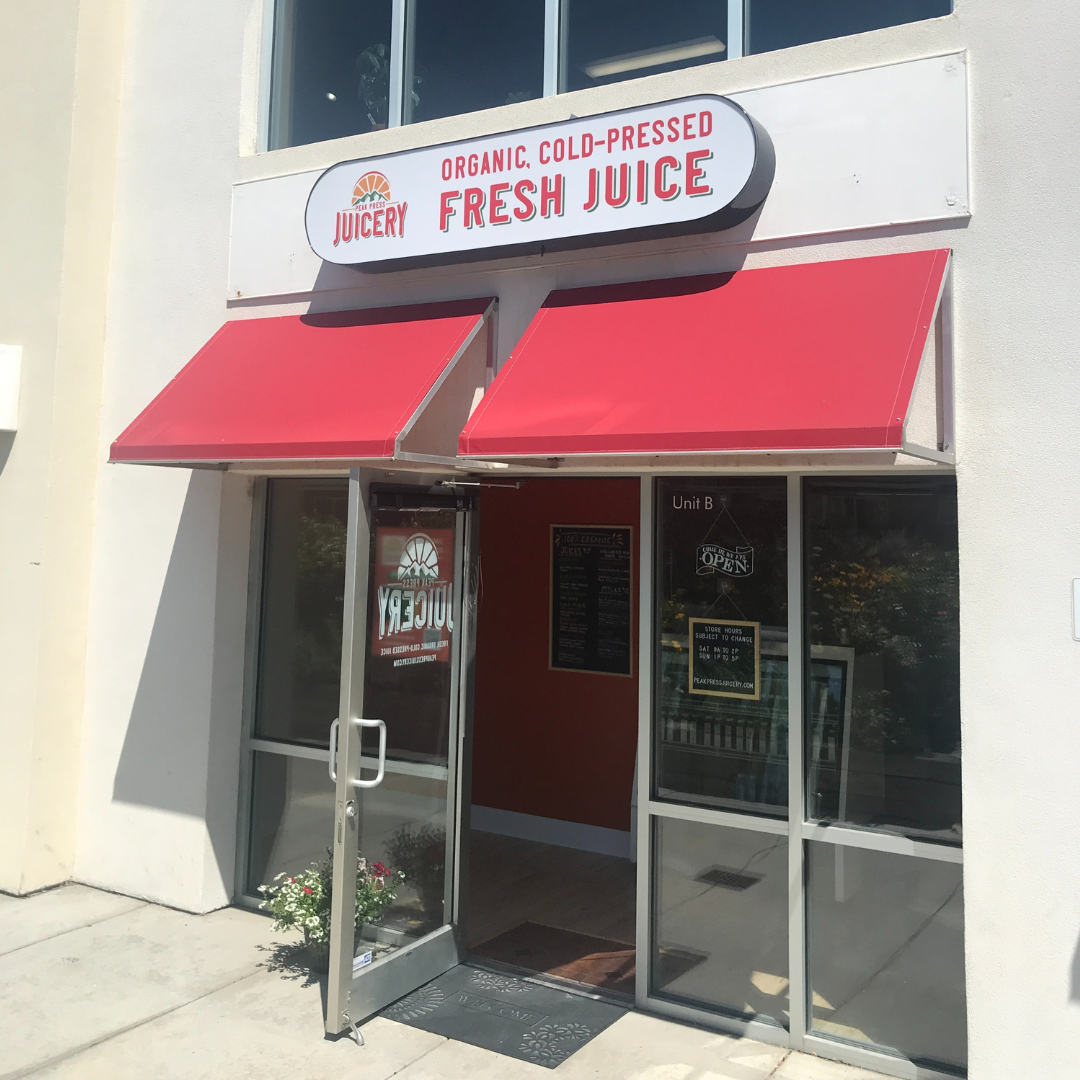 Peak Press Juicery
We're located at 1515 Main St, Unit B, on the South side of the building on the lower patio level below Blue Corn Tacos in Longmont, CO.
There is plenty of parking in front of the building or along 15th.
Our website shows live inventory. On Mondays we update this site with the juices that will be available starting on Thursday. Our primary juice production days are Wednesday and Friday evening. We make more juice and add inventory over the weekend as we make additional batches. Most of our mylks are pressed Thursday evening and are available Friday through Sunday.
Pre-order your juice to ensure we have your favorites. Message us or give us a call if you have questions about availability. We can often make an adjustment to make more of a juice recipe available for you.
Shop Now
Who's Behind Peak Press Juicery?
Doyle and Stephanie Leach. 👫 They've been married 31 years and have lived in the Berthoud/Longmont area since 2007. When they're not making or drinking fresh juice, they enjoy wheeling nearby trails in their Jeep, hiking, hanging out with friends or walking their dog, Sophie.
Stephanie is a certified juice therapist and certified health coach, applying her experience and knowledge to juice recipe development. She's the author of The Complete Juicing Recipe Book – 360 Easy Recipes for a Healthier Life, and founder of the Juice POWERED Life™ Club membership program, where she provides weekly juice menus, plant-based recipes and coaching to help individuals lower their cholesterol or blood pressure naturally, achieve and maintain a healthy weight, and live a life they love through the power of juicing and a delicious, sustainable plant-forward diet. To learn more about health coaching, visit StephanieLeach.com.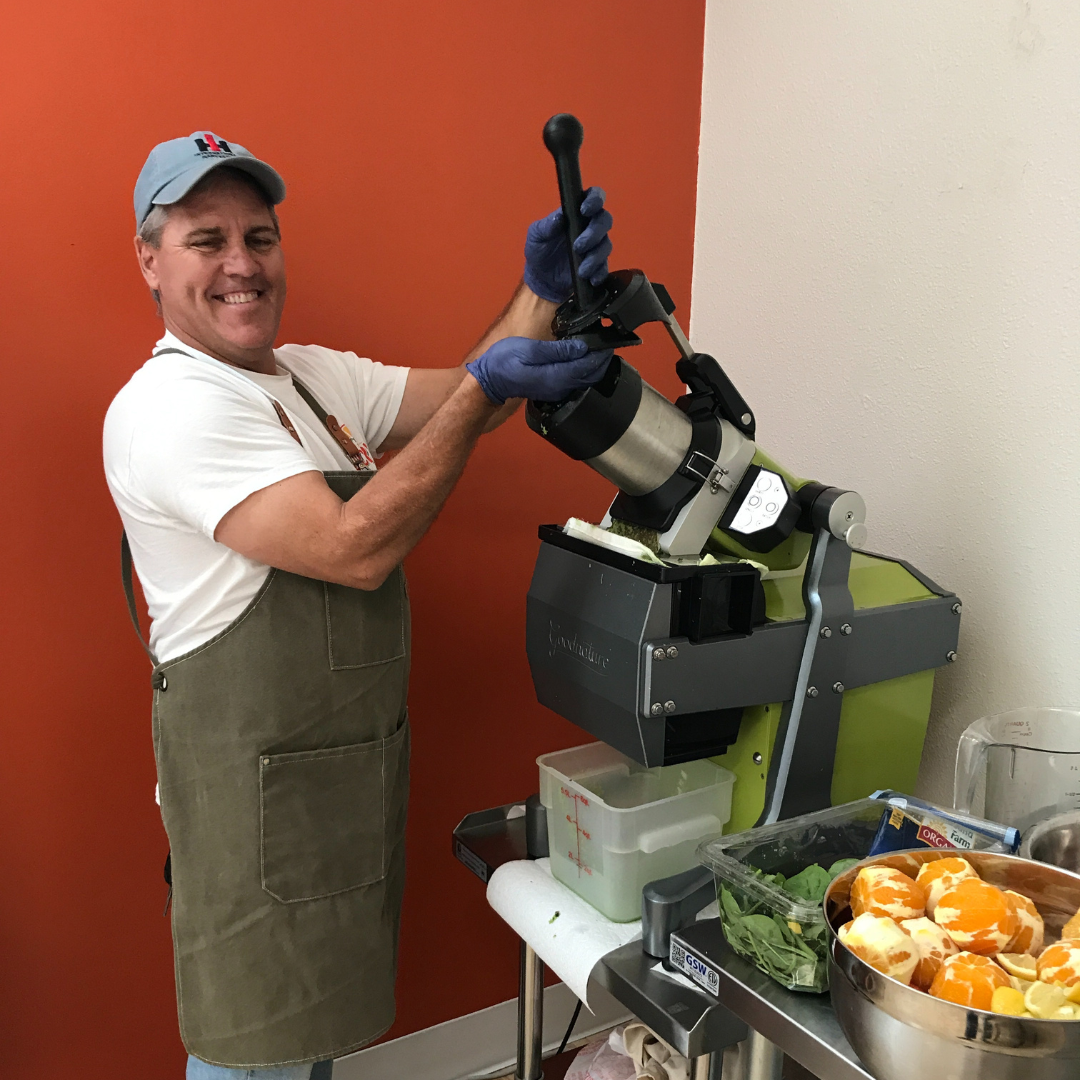 Juiced on Goodnature
Your juice is made on a hardworking (and beautiful!) Goodnature X-1 Mini commercial juicing machine. In this two-stage juicing process, produce is chopped with a grinder. Then the pulp is dropped into a filter bag and pressed between two plates with thousands of pounds of force to extract the juice. This process yields nutrient-dense juice full of health promoting vitamins, minerals, phytochemicals, and enzymes with a longer shelf-life than other types of juicing machines. Most of all, the juice from this machine is extra smooth and delicious!
Why Fresh Juice?
Fruits & Veg!

Researchers have concluded that we need to consume 10 servings of fruits and vegetables a day to get the maximum protection from heart disease, cardiovascular disease, type 2 diabetes, stroke, cancer and premature death. That's 1.75 pounds of produce a day!

Juice Makes it Easy

We use over a pound of fresh, organic produce in every 12 ounce juice. Most of us won't sit down to eat stalk of celery (7-9 ribs), some kale, parsley and an apple, but when you juice those ingredients you get all of that nutrition into one tasty, drinkable beverage.

The Benefits!

Fresh, raw juice is a powerful choice for health. Nutrient-dense juice can improve heart and cardiovascular health, protect the brain, resolve digestive complaints, aid weight loss, improve sleep, boost immunity and energy, and support detoxification.
Discover Your New Favorites!